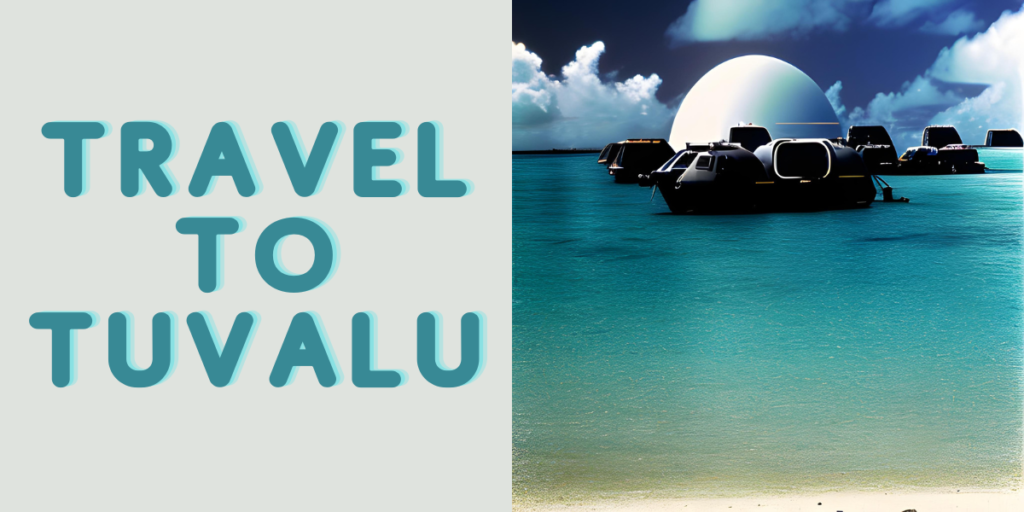 Planning the Ultimate Travel to Tuvalu – A Travel Guide
Ever wondered what it feels like to step off the beaten track and dive into a world that's yet to be fully unveiled to the masses? Imagine a place where you can experience the untouched beauty of nature, immerse yourself in a unique culture, and meet some of the friendliest people on the planet. Welcome to Tuvalu, an island paradise where time seems to stand still and every day offers a new adventure. If you're considering a trip, it's time to travel to Tuvalu.
Short Summary
Planning a trip to Tuvalu? Get essential travel info like visa requirements, currency exchange rates & local customs.
Book your flight with Fiji Airways or Air Kiribati and take advantage of connecting flights for more exploration!
Stay connected & safe in Tuvalu by using SIM cards, Wi-Fi services and getting travel insurance.
Essential Travel Information for Tuvalu
Before embarking on your journey to one of the least visited countries in the world, it's essential to gather some crucial information. From visa requirements to the local currency, and from language to local customs, every detail counts when planning the ultimate travel to Tuvalu.
Let's dive into these critical aspects to ensure a seamless trip to this timeless destination.
Visa Requirements
For British nationals, visiting Tuvalu is a breeze. You don't need a visa if you're staying for up to a month. However, it's always a good idea to keep a photocopy of the important pages of your passport in case you misplace it during your island adventures. In such a situation, contacting the British Consulate might be necessary for assistance.
If such an unfortunate event occurs, get in touch with the Tuvalu authorities to get emergency travel documents for a smooth journey ahead.
Currency and Exchange Rates
The official currency of Tuvalu is the Australian dollar, symbolised as A$ with the currency code AUD. The exchange rate fluctuates depending on the market, so keeping an eye on it will help you make the most of your money.
When traveling to Tuvalu, it's a good idea to bring both cash and cards and use ATMs or currency exchange services for the best rates.
Language and Communication
Although the primary language in Tuvalu is Tuvaluan, English is also an official language there and is commonly used, making communication for travellers quite straightforward.
However, it wouldn't hurt to pick up a few phrases in Tuvaluan to fully immerse yourself in the local culture and build rapport with the friendly locals.
Local Customs and Etiquette
Respecting local customs and etiquette is key to a fulfilling travel experience. In Tuvalu, it's part of the melanesian tradition to welcome travellers into their homes, offering a unique opportunity to experience the local life.
However, please stay alert as there's a high risk of terrorist attacks that could affect UK interests and British nationals. It's crucial to stay updated with the latest travel advice to ensure a safe trip.
Booking Your Flight to Tuvalu
Now that we've covered the essentials, let's get into the exciting part – flight booking to this Pacific paradise. With limited airlines serving Tuvalu and a few connecting flights, finding affordable tickets requires some savvy planning.
But don't worry! We've got you covered with all the insider tips to get you the best deals for your island getaway.
Airlines Serving Tuvalu
Fiji Airways and Air Kiribati are the airlines that fly to Tuvalu, serving as your gateways. Fiji Airways operates services three times a week between Suva and Funafuti with ATR 72-600 aircraft. Air Kiribati also has a flight to Tuvalu once a week.
So, you have plenty of options to choose from for your journey to this Polynesian paradise.
Connecting Flights and Stopovers
As you plan your trip, consider embracing the journey as much as the destination. Often, flights to Tuvalu have layovers in other scenic Pacific Island countries like Fiji, Samoa, and the Cook Islands. These stopovers offer an excellent opportunity to extend your adventure and explore more of the Pacific's natural beauty.
Just remember to check the visa requirements for any stopover destinations.
Tips for Finding Affordable Tickets
Finding affordable tickets to Tuvalu doesn't have to be a daunting task. A good starting point is to check out cheap flights with Fiji Airways, the primary airline that flies to Tuvalu. Consider booking your tickets one to three months in advance for domestic flights and two to eight months before for international flights to get the best deals.
It's also important to compare prices between different airlines and travel websites. You may have heard.
Arriving in Tuvalu: Navigating Funafuti International Airport
Stepping off the plane at Funafuti International Airport, you're instantly greeted with a warm tropical breeze that hints at the adventures to come. But before you set off to explore the island, it's essential to navigate your way through customs, immigration, and transportation options.
This guide will help you breeze through these processes, so you can kickstart your Tuvalu adventure without any hiccups.
Customs and Immigration
Clearing customs and immigration at Funafuti International Airport is usually a hassle-free process. The immigration and customs areas are located on the right and left sides of the terminal, respectively. Most visitors report a smooth experience, but it's always good to stay prepared with all your travel documents in place.
Having all your documents in order before you arrive will help ensure a smooth and stress-free experience.
Transportation Options
Once you've cleared customs and immigration, it's time to head to your accommodation. You'll find taxis and rental cars readily available at the airport to take you to your destination.
Just be ready to soak in the picturesque views along the way.
Currency Exchange Facilities
Before you venture off to explore Tuvalu, you might want to exchange some currency. The airport terminal at Funafuti International Airport offers currency exchange services. Also, there are two banks near the airport, the National Bank of Tuvalu and the Tuvalu Credit Union, where you can exchange foreign currency like Australian Dollars, USD, and Euro.
These banks are open from 8am to 4pm, Monday to Friday, and offer competitive rates.
Exploring Tuvalu's Natural Beauty
Tuvalu is not just about pristine beaches and turquoise lagoons. It's a haven for nature lovers and adventure seekers. From coral reefs teeming with marine life to unique wildlife encounters and mesmerising natural landscapes, Tuvalu is a treasure trove of natural wonders waiting to be explored.
Whether you're looking for a relaxing beach holiday or an action-packed adventure, Tues.
Coral Reefs and Snorkeling Opportunities
Venture beneath the surface of Tuvalu's clear waters, and you'll find yourself in an underwater paradise. The Funafuti Marine Conservation Area is home to an array of coral reefs teeming with vibrant marine life.
Whether you're a seasoned diver or a snorkeling newbie, this underwater world promises an immersive experience that you'll cherish for a lifetime.
Pristine Beaches
Tuvalu's beaches are a sight to behold. With long stretches of white sand fringed by lush palms and crystal clear waters, it's easy to find your own slice of paradise here.
Fongafale Islet, in particular, boasts some of the most stunning beaches in Tuvalu. However, remember to respect the local environment and leave nothing but footprints behind.
Unique Wildlife Encounters
The wildlife in Tuvalu is as diverse as its landscapes. From vibrant coral reefs to the azure lagoons, each habitat is teeming with unique species. Some of the wildlife you can spot in Tuvalu includes:
Indigenous birds
Tropical fish
Sea turtles
Various marine life
Whether you're snorkeling in the lagoon or birdwatching on the beach, Tuvalu offers unique wildlife encounters that will leave you in awe.
Accommodation and Dining Options in Tuvalu
After a day filled with adventure, it's time to unwind. Whether you're looking for a cozy guesthouse or a luxury hotel, Tuvalu offers a range of accommodations to suit every budget.
And when it comes to dining, you'll be spoilt for choice with a mix of local and international cuisines to tantalize your taste buds.
Hotels and Guesthouses
From the comfortable Esfam Hotel, located just a few minutes away from the airport, to the Filamona Lodge and the Vaiaku Langi Hotel, you have plenty of options for your stay. These accommodations offer a blend of local charm and modern comforts to ensure a relaxing stay in Tuvalu.
Each hotel offers a unique experience, from the traditional Fijian-style architecture of the Esplanade.
Local Cuisine and Restaurants
When it comes to food, Tuvalu offers a culinary journey that's every bit as exciting as its natural adventures. Traditional dishes like pulaka, bananas, breadfruit, and coconut are must-try.
For a dining experience to remember, head to the Funafuti Café, the Funafuti Beach Resort, or the Funafuti Yacht Club, where you can enjoy a mix of local and international cuisine.
Budget-friendly Dining Options
If you're travelling on a budget, don't worry! Traditional foods like:
Pulaka
Bananas
Breadfruit
Coconut
These are some of the most budget-friendly dining options in Tuvalu. Plus, you'll find plenty of street food stalls and local markets offering delicious and affordable meals, giving you a taste of the local cuisine without breaking the bank.
Staying Connected and Safe in Tuvalu
Staying connected with your loved ones back home and ensuring your safety are crucial aspects of your travel. Let's delve into the available options for:
local SIM cards
mobile networks
Wi-Fi services
travel insurance
These options will help you stay connected and safe during your time in Tuvalu.
Local SIM cards are a great way to stay connected while abroad. They are usually cheaper than roaming.
Local SIM Cards and Mobile Networks
The Tuvalu Telecommunications Corporation (TTC) is the only network operator in Tuvalu, offering phone services on a few islands and a 4G/LTE network in Funafuti and Vaitupu. Purchasing a local SIM card can help you stay connected throughout your trip.
However, be sure to check the coverage area and network availability on the islands you plan to visit.
Wi-Fi Services and Internet Access
Wi-Fi services are available in most hotels and guesthouses in Tuvalu, allowing you to share your experiences with friends and family back home in real-time. You can also find internet access in some public places like the airport, cafes, and restaurants.
Just remember, the speeds may not be as fast as you're used to, but they're certainly enough to keep you connected.
Travel Insurance and Safety Tips
The importance of travel insurance cannot be stressed enough, especially when it comes to covering essential services like medical treatment expenses, doctor visits, and hospital medical expenses for any illnesses or accidents. Be sure to get comprehensive travel insurance from a reliable travel provider that takes care of these needs.
Also, when traveling, it's essential to:
Ensure your policy covers any COVID-19 related expenses
Stay updated with the latest travel advice
Be aware of local laws and customs
Take necessary safety precautions
Navigating Tuvalu's Islands
Exploring the charming islands of Tuvalu is an adventure in itself. Each island offers a unique charm and a variety of attractions. From transportation between islands to the must-visit destinations and tips for island hopping, let's navigate through the tropical paradise that is Tuvalu.
The main mode of transportation between islands is by boat. There are several ferry services that offer regular services.
Transportation Between Islands
Getting around between the islands in Tuvalu is part of the adventure. Apart from domestic flights offered by Air Tuvalu, you can also explore the islands using local transport options like:
small pickup trucks
motorcycles
bicycles
taxis
For an authentic experience, hop on the inter-island ferry, Manu Folau, for a memorable ride across the turquoise waters.
Must-Visit Destinations in Tuvalu's Outer Islands
Each of Tuvalu's outer islands offers a unique charm. Vaitupu, Nukufetau, and Nukulaelae Conservation Area are some must-visit destinations. Whether you choose to get active on the airstrip, go for a ride around the island, or embark on a castaway day, these islands guarantee an unforgettable experience.
The airstrip is a great place to get active. You can go for a run.
Tips for Island Hopping in Tuvalu
Island hopping in Tuvalu is a great way to explore the diverse landscapes and cultures of the country. But it requires some planning. Be sure to book your accommodation in advance and be mindful of local customs and etiquette.
Also, remember to respect the local environment and take all your trash with you when you're done exploring.
COVID-19 and Travel Restrictions in Tuvalu
With the ongoing COVID-19 pandemic, travel has become a bit more complex. But don't worry, we've got you covered with all the latest updates on the pandemic situation in Tuvalu and the current travel restrictions that you need to be aware of.
It is important to stay informed and up-to-date on the latest travel restrictions and domestic community transmission cases.
Entry Requirements and Restrictions
If you're planning to visit Tuvalu during the pandemic, it's essential to stay updated with Tuvalu's current entry restrictions. Currently, Tuvalu's borders are closed, but commercial flights have resumed with a transitional border quarantine plan in place.
For the most recent information on the Tuvalu government, especially since the Tuvalu government announced new policies, it's a good idea to check with the closest Embassy of Tuvalu.
Summary
From the untouched beauty of its coral reefs and pristine beaches to the warmth of its people and the richness of its culture, Tuvalu truly is a hidden gem in the Pacific. As one of the least visited countries in the world, it offers a unique travel experience away from the crowds. So, if you're looking for an off-the-beaten-path destination that offers both relaxation and adventure, Tuvalu should be at the top of your list. It's time to start planning your trip to this Pacific paradise.
Frequently Asked Questions
Where is tuvalu?
Tuvalu, formerly known as the Ellice Islands, is an island country in the west-central Pacific Ocean located halfway between Australia and Hawaii. It consists of nine small coral atolls and has a population of about 11,000 people.
The de facto capital of Tuvalu is the village of Vaiaku.
Do I need a visa to visit Tuvalu?
No, you don't need a visa if you're a British national and visiting for up to a month.
What is the currency used in Tuvalu?
Tuvalu uses the Australian dollar as its official currency.
What is the primary language spoken in Tuvalu?
Tuvaluan is the primary language spoken in Tuvalu, with English being commonly used too.
Readability is important for copywriting. Splitting text into paragraphs is a key to better readability. Start a new paragraph whenever you introduce a new idea or change direction in your argument.
Which airlines fly to Tuvalu?
Fiji Airways and Air Kiribati offer flights to Tuvalu, making it easy to visit this beautiful destination.